---

Click here for Department of Maine Posts
---

To download a copy of our current
SMILE
& latest

Membership Report
click here
.

MEMBERSHIP ARCHIVES
SMILE ARCHIVES

Get the latest free version of Acrobat Adobe Reader here:

---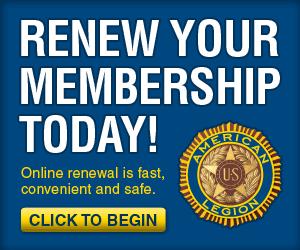 To learn how the new online renewal process works for members, Department Officers/Staff and Post Officers
click here
and scroll down to "How it works"
Please click here if you have already renewed your membership online and need to reprint another temporary membership card
---
THE AMERICAN LEGION
95TH ANNUAL STATE CONVENTION
JUNE 14 - 16, 2013
AUGUSTA CIVIC CENTER
For more information, please view the latest issue of The Maine Legionnaire
---

The American Legion, Department of Maine is proud to announce its 66th Annual American Legion Dirigo Boys State program at
Thomas College
in Waterville during the week of June 16-20, 2013.
Please
click here
for more information or visit
www.dirigoboysstate.org
2012 Dirigo Boys State Awards

Click here for a copy of the 2013 Dirigo Boys State Announcement Brochure
---
2013 AMERICAN LEGION HS ORATORICAL
A Constitutional Speech Contest

The American Legion, Dept. of Maine
Congratulates Victoria Schalk of Sabattus,
representing District 3 as the
2013 State Oratorical Winner

CONGRATULATIONS VICTORIA!!!

Click here to read more about the 2013 HS Oratorical Contest

For more information about the Oratorical Contest in Maine, please visit our programs page or contact your local Legion Post, American Legion Department Headquarters at 873-3229 or e-mail Department Chairman Tommy Adkins at tomadkins@myfairpoint.net

---
Are you a Snowbird?
(Example - you live in Maine from April-October and Florida from November-March)
If you would like to continue receiving The Maine Legionnaire newspaper and any other mail from The American Legion, Department of Maine while you are away, please click here and fill out the attached form to take advantage of this service.
---
NATIONAL COMMANDER JAMES E. KOUTZ

James E. Koutz of Boonville, Ind., was elected national commander of The American Legion on Aug. 30, 2012, during the 94th National Convention in Indianapolis.

Click here to learn more about James Koutz, or visit www.legion.org

To learn about National Commander James Koutz's Incentive Program visit
"Lucky 13" Incentive Award Program

For a copy of the "Lucky 13" Incentive Award Program Application, click here.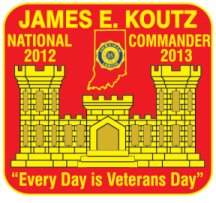 ---
May 2013 Issue


Click the above logo to view the latest issue
of The Maine Legionnaire newspaper.

Click here for TML Archives

---
MYLEGION.ORG
Access to MyLegion is now open to all Legion Members and Post/Department Leaders.
MyLegion.org is a website designed to connect members of The American Legion to their Post and Department leadership, other veterans with similar interests, and the vast array of services offered at every level of the organization. Click here for more information and access to Mylegion.org.
---
HEROES TO HOMETOWNS

As the war on terrorism continues, more young American military men and women are coming home bearing the scars of battle. Many continue to recover physically and emotionally from severe injuries including loss of limbs, mobility, and psychological trauma.

The American Legion and the Department of Defense have teamed up to provide these outstanding and dedicated Americans all the help they need to re-establish their lives when they come home.

It is a pillar of The American Legion- "to consecrate and sanctify our comradeship by our devotion to mutual helpfulness".

If your post has agreed to participate in the Heroes to Hometown program because a comrade is coming home to your community, download this guide and visit the National Heroes2Hometowns website. These resources will provide you with information you need to ensure that the servicemember and their family will get full assistance for a successful transition back to civilian life.
Also see our
Heroes2 Hometowns FAQ
for answers to frequently asked questions.
---
---
---

The American Legion, Department of Maine is proud to announce its 66th Annual American Legion Dirigo Boys State program at Thomas College in Waterville during the week of June 16-20, 2013.

Please click here for more information or visit www.dirigoboysstate.org

2012 Dirigo Boys State Awards

Click here for a copy of the 2013 Dirigo Boys State Announcement Brochure

---
Legionnaire Insurance Trust
If you are a member of the American Legion you are eligible for the Legionnaire-only discounts with LIT. Legionnaire Insurance Trust has been providing insurance to our membership since 1966. For more information visit http://www.thelit.com/.

Beginning January 1, 2012 the Legionnaire Insurance Trust Program changed the Accidental Death and Dismemberment (AD&D) benefit of $1000 NO COST TO YOU.

As a Legionnaire, you're eligible for the following benefits:
$1,000.00 NO COST TO YOU AD&D Protection at any time.
$5,000.00 NO COST TO YOU AD&D Protection if you are traveling on official Legion Business.
24/7 protection that covers Legionnaires at home, at work and while they are traveling away from home.

IMPORTANT: All Legionnaires who are actively enrolled in the program will be automatically covered
The LegionCare postcards will be provided to Department Adjutants and Post Leaders in May 2012. Legionnaires may also activate their coverage by going online at www.theLIT.com.

LIT Phone No.: 1-800-235-6943 (need member #). This coverage ends on August 31, 2016.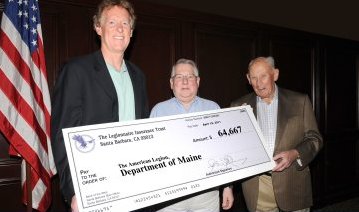 The Department of Maine's Trust Director, Ernie Paradis, accepts a record payment of $64,667 on behalf of the Department from LIT Chairman Jack Flynn and AGIA President John Wigle at the Forty-sixth (46th) annual meeting of the Board of Directors of the Legionnaire Insurance Trust (LIT) on April 19, 2011 in Scottsdale, Arizona. The LIT is the Department's officially endorsed provider of insurance products and services to Maine Legion families.
---
DD-214
It's official; DD-214s are NOW Online. To obtain a copy, go to:
http://www.archives.gov/veterans/military-service-records/

Call 207-626-4464

or click on the link below if you are requesting a copy of a discharge from the State of Maine

Application Request for Military Discharge

---
IRS Filing Requirement for All Posts/Units

Annual Electronic Filing Requirement for Small Exempt Organizations -- Form 990-N (e-Postcard)
Small tax-exempt organizations whose annual gross receipts are normally $25,000 or less may (will for The American Legion) be required to electronically submit Form 990-N, also known as the e-Postcard, unless they choose to file a complete Form 990 or Form 990-EZ.

If you do not file your e-Postcard on time, the IRS will send you a reminder notice but you will not be assessed a penalty for late filing the e-Postcard. However, an organization that fails to file required e-Postcards (or information returns - Forms 990 or 990-EZ) for three consecutive years will automatically lose its tax-exempt status. The revocation of the organization's tax-exempt status will not take place until the filing due date of the third year.

This filing requirement will be mandatory for all American Legion posts and units previously exempted because they did not meet the minimum income level of 25,000 to file a 990 or 990-EZ.

Due Date of the e-Postcard:

The e-Postcard is due every year by the 15th day of the 5th month after the close of your tax year. For example, if your tax year ended on December 31, the e-Postcard is due May 15 of the following year. You cannot file the e-Postcard until after your tax year ends.

---