News and Information
Press Releases

Job Opening for
Assistant Department Service Officer
Click here for more information
---
Kirk Thurston
Department of Maine Commander's Project

Support The American Legion Commander's Project
Operation Reboot Outdoors

For more information on how to donate, please click here .
---
103rd National Convention
Milwaukee, WI
August 26 - September 1, 2022

2022 National Convention Reservation/Registration/Banquet Form
For more information, please visit Convention Resources
---
American Legion Be the One Campaign

Today, the #1 issue facing those who served is veteran suicide. According to the National Veteran Suicide Prevention Annual Report. 17 veterans still die by suicide each day, or more than 6,000 each year. Rate of suicide for veterans is more than 50% higher than that of non-veteran adults.

The American Legion is activating a national platform to end veteran suicide. - The Be the One campaign will: Destigmatize asking for mental health support, creating opportunity for those with mental health issues to speak freely and get the support they need; Provide peer-to-peer support and resources in local communities; Deploy FDA-approved therapeutics for veterans to identify issues and find resources for support.
What To Know...
---

The American Legion, Department of Maine
2021-22 Membership Plan


---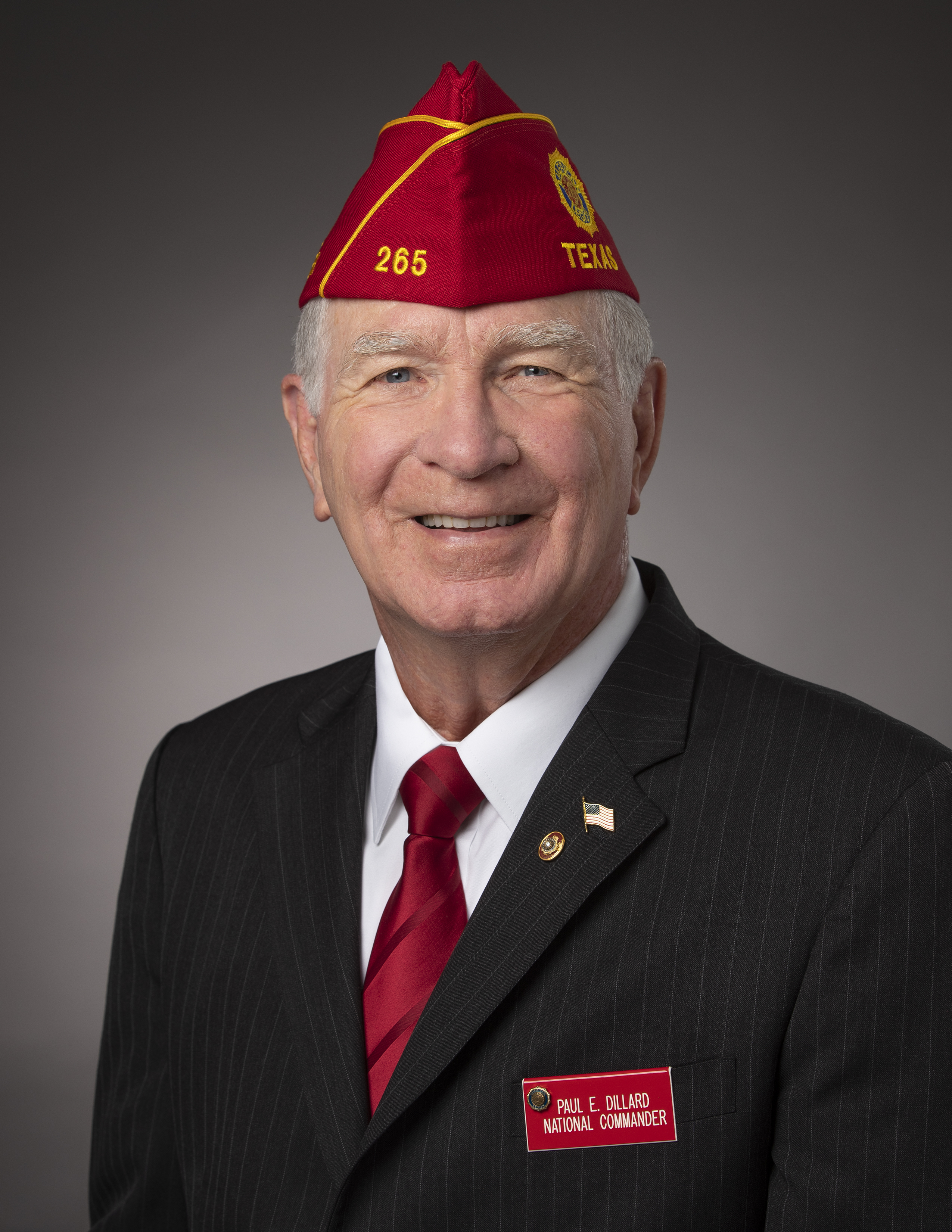 THE AMERICAN LEGION
NATIONAL COMMANDER PAUL E. DILLARD

Paul E. Dillard was elected National Commander of The American Legion on Sept. 2, 2021, during the organization's 102nd National Convention in Phoenix, AZ. His theme as national commander is "No Veteran Left Behind." To learn more about Paul E. Dillard, click here or visit www.legion.org .

About National Commander Dillard's Pin Incentive Program and Form
About National Commander Dillard's Honor Ribbon Program and Form
About National Commander Dillard's 103 Percent Membership Pin Incentive Program and Form
---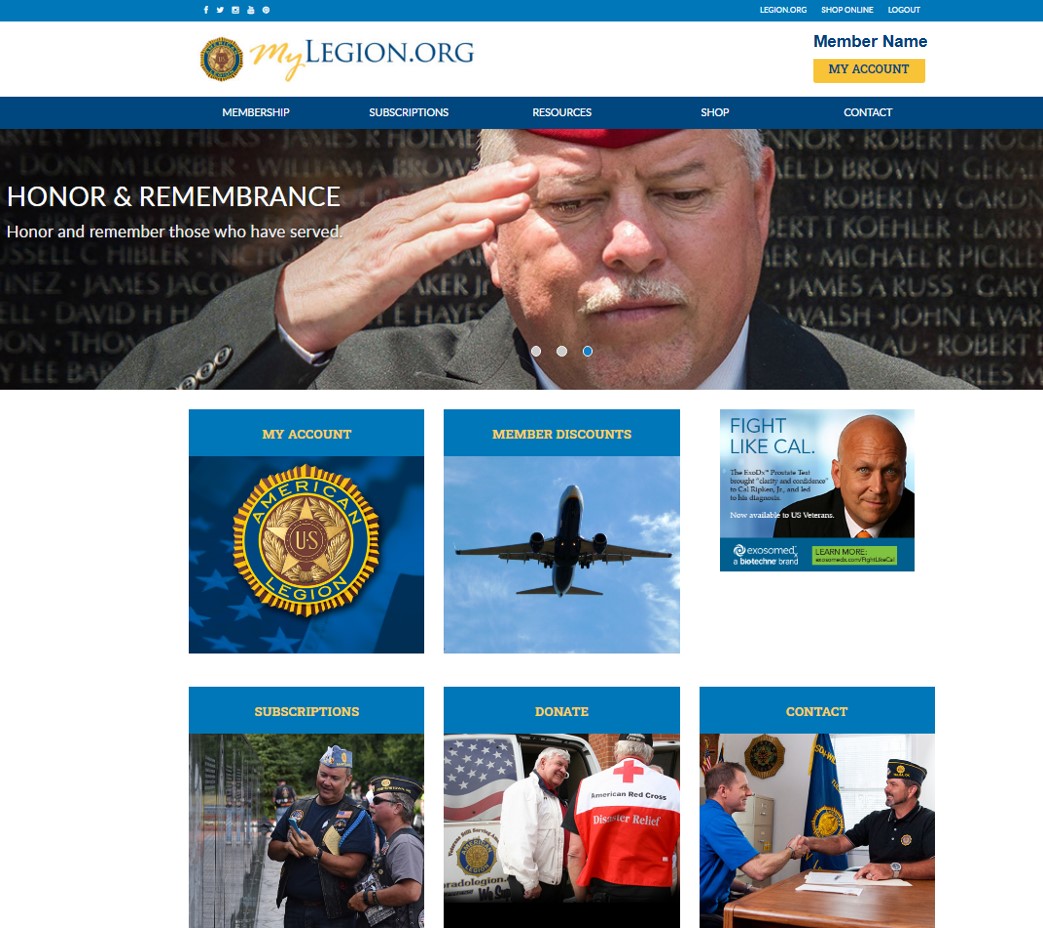 A Complete Overview of MyLegion.org
Includes New Updated Instructions/Information on
How to Register an Account, Manage Groups, Process Membership, View Reports, and More!
Download a copy to learn more! (Available in PDF or PPTX format)
A Complete Overview of MyLegion.org - PDF format
A Complete Overview of MyLegion.org - Powerpoint (PPTX Format)

Note: The last Tuesday of each month American Legion National Headquarters staff will present 60 to 90-minute sessions on topics aimed at post commanders and adjutants. Each session will be recorded and made available for later viewing. Please visit Training Tuesdays for the next scheduled training session.
---
---
---
The American Legion Department of Maine Foundation, a 501 (c) (3) charity organization
Please
click here
or the FOUNDATION tab above to learn more.
---
AmazonSmile donates to the American Legion Department of Maine Foundation.
Shop AmazonSmile and make a difference today.
http://www.smile.amazon.com

---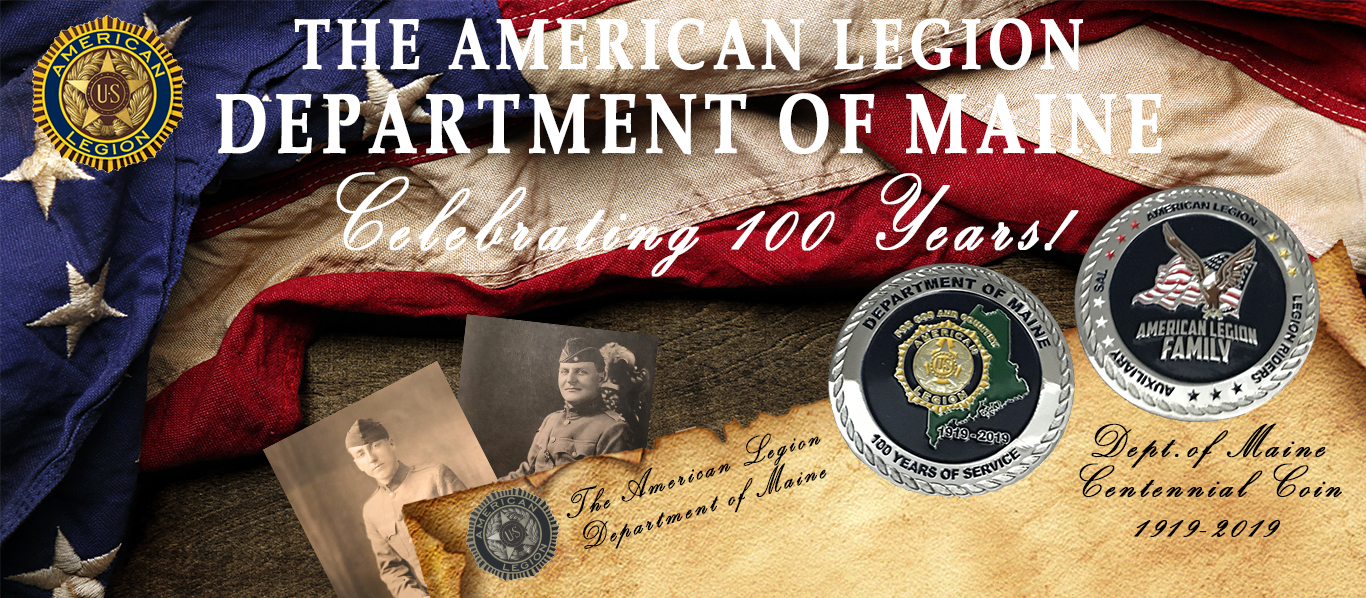 The Department of Maine Centennial Coins can be purchased online, or by calling the Department directly at 207-873-3229 . The coins are $10 each plus $5 shipping/handing. Coins are also available for free pick up at Department for $10 each. To purchase your coin, click on the Buy Maine Centennial Coin button below.

PLEASE ORDER YOUR COIN TODAY WHILE SUPPLIES LAST!




Click here to learn more about the Department of Maine's Centennial Celebration
---
American Legion members interested in the discounted Paid Up For Life program can now easily join online. Please visit
www.legion.org/join/pufl
---
The American Legion, Department of Maine was notified last year by National Headquarters that they have discontinued its "Snowbird" address change service due to duplication of time and effort spent processing and maintaining the requests. However, we here at Department Headquarters would like to continue that service to you. If you are a Snowbird, for example, you live in Maine from April-October and Florida from November-March, please
click here and fill out the attached form to take advantage of this service.
---
Veterans Emergency Financial Assistance Program (VEFAP)

American Legion and Easterseals Maine Partner to Distribute Veterans' Emergency Financial Assistance