News and Information
Press Releases

The American Legion Family
Department Testimonial

Saturday, May 20, 2023

Napoleon-Ouellette Post 24
184 Congress St., Rumford, ME 04276

Click here for more information
---
PACT Act Fraud Prevention

On August 10, 2022, President Biden signed the Sergeant First Class Heath Robinson Honoring Our Promise to Address Comprehensive Toxins Act of 2022 (PACT Act) — possibly the largest expansion of Veterans benefits in history — into law. Click here to read more.
---
---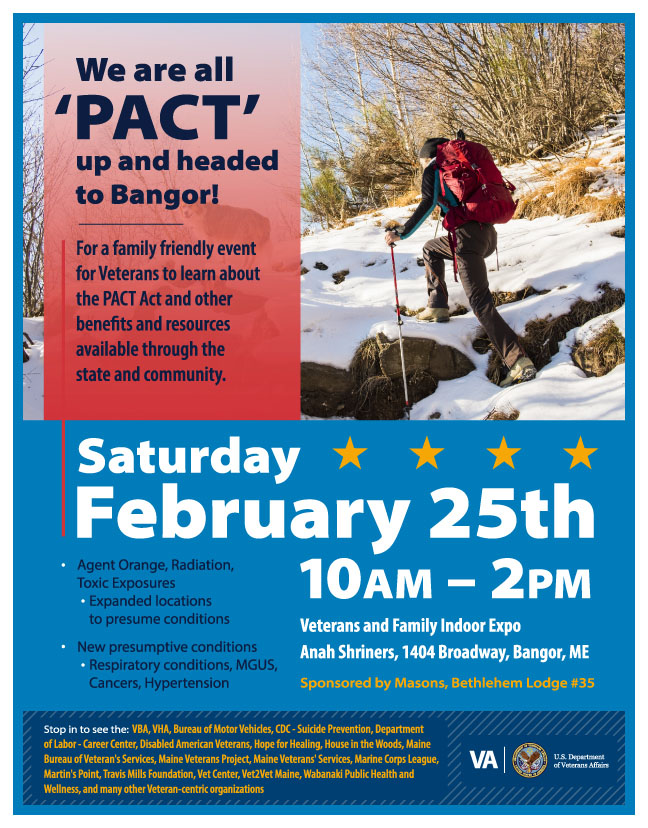 ---

Kirk Thurston
Department of Maine Commander's Project

Support The American Legion Commander's Project
Operation Reboot Outdoors

For more information on how to donate, please click here .
---
American Legion Be the One Campaign

Today, the #1 issue facing those who served is veteran suicide. According to the National Veteran Suicide Prevention Annual Report. 17 veterans still die by suicide each day, or more than 6,000 each year. The rate of suicide for veterans is more than 50% higher than that of non-veteran adults.

The American Legion is activating a national platform to end veteran suicide. - The Be the One campaign will: Destigmatize asking for mental health support, creating opportunities for those with mental health issues to speak freely and get the support they need; Provide peer-to-peer support and resources in local communities; Deploy FDA-approved therapeutics for veterans to identify issues and find resources for support.
What To Know...
---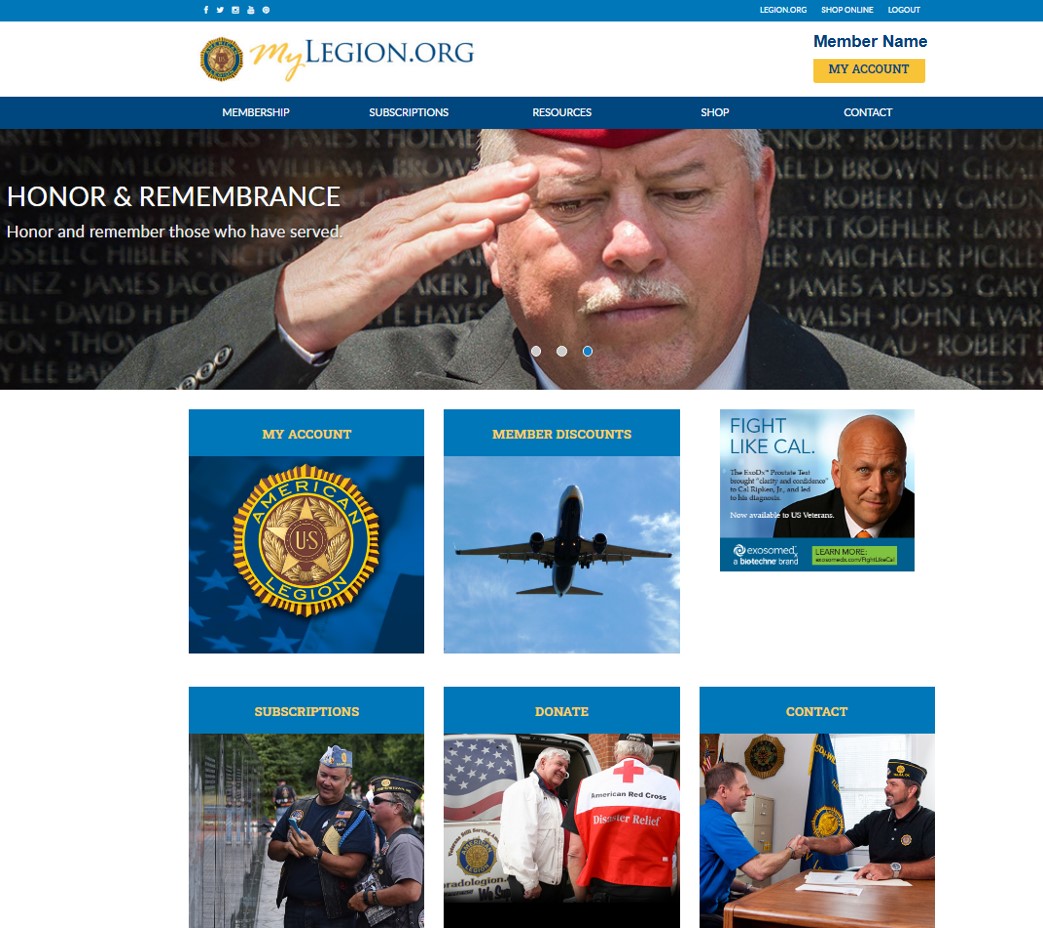 A Complete Overview of MyLegion.org
Includes New Updated Instructions/Information on
How to Register an Account, Manage Groups, Process Membership, View Reports, and More!
Download a copy to learn more! (Available in PDF or PPTX format)
A Complete Overview of MyLegion.org - PDF format
A Complete Overview of MyLegion.org - Powerpoint (PPTX Format)

Note: The last Tuesday of each month American Legion National Headquarters staff will present 60 to 90-minute sessions on topics aimed at post commanders and adjutants. Each session will be recorded and made available for later viewing. Please visit Training Tuesdays for the next scheduled training session.
---
---
---
The American Legion Department of Maine Foundation, a 501 (c) (3) charity organization
Please
click here
or the FOUNDATION tab above to learn more.
---
AmazonSmile donates to the American Legion Department of Maine Foundation.
Shop AmazonSmile and make a difference today.
http://www.smile.amazon.com

---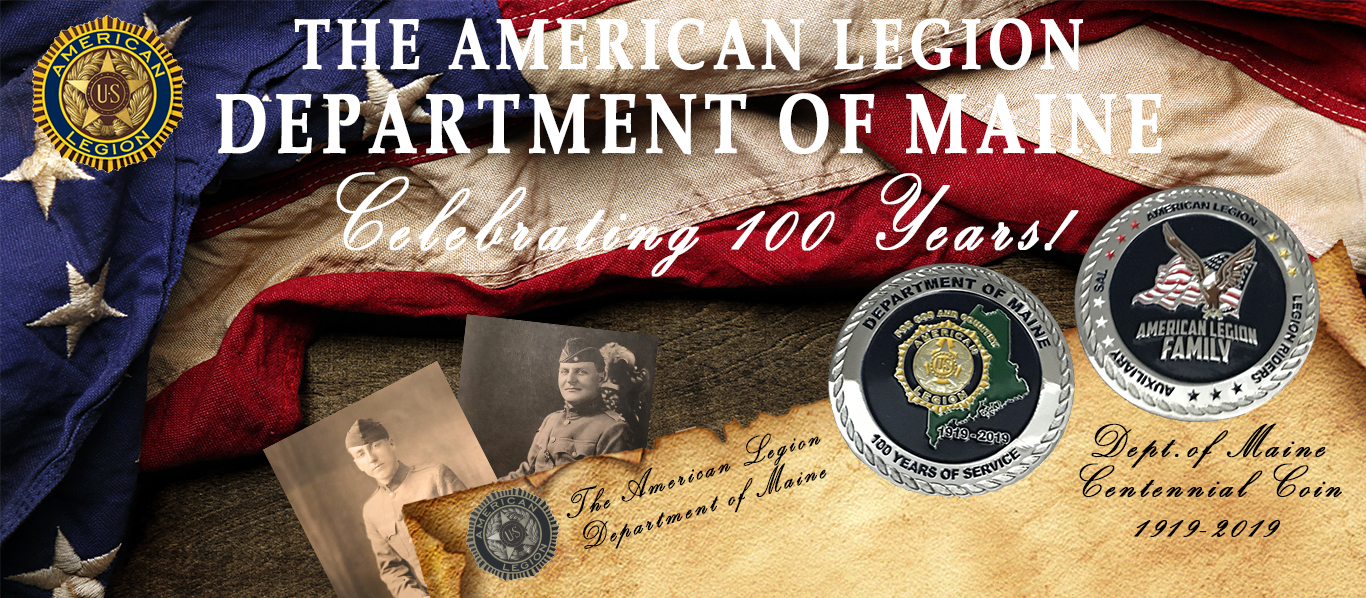 The Department of Maine Centennial Coins can be purchased online, or by calling the Department directly at 207-873-3229 . The coins are $10 each plus $5 shipping/handing. Coins are also available for free pick up at Department for $10 each. To purchase your coin, click on the Buy Maine Centennial Coin button below.

PLEASE ORDER YOUR COIN TODAY WHILE SUPPLIES LAST!




Click here to learn more about the Department of Maine's Centennial Celebration
---