News and Information
Press Releases

The American Legion Family
Department Testimonial

Saturday, May 20, 2023

Napoleon-Ouellette Post 24
184 Congress St., Rumford, ME 04276

Click here for more information
---
Itinerary for Incoming National Commander Candidate 2023-24
Daniel J. Seehafer

Thursday, May 18, 2023
• Flies into Bangor
• Check into hotel in Waterville
May 19th Friday
• 1000 Department HQ
• 1130 Red Barn for lunch
• 1330 Vets Home Augusta
• Drive through Togus Campus
• Check-in Best Western Rumford
• 1800 Supper at the Lure Restaurant (Thai & American menu)
May 20th Saturday
• 1000/1030 Brunch Post 151 W. Paris
• 1300 Jeri Greenwell funeral Bethel
• 1600 Social hour Post 24 Rumford
May 21st Sunday
• Depart to New Hampshire

---
Request for Post 24 and Unit 24 American Legion
Presence and Ceremonial Prayers

Edward J. Roach, Jr.
08/28/1926 - 05/09/2023

With a saddened heart, I write to inform you as Chaplains of the Rumford American Legion Post and Auxiliary that my father-in-law, World War II Veteran Edward J. Roach, Jr., died this morning. On behalf of the Roach family, I am requesting that members of Post 24 and Unit 24 be present at Ed's funeral. The dates and times of his services have yet to be determined. Family members are meeting with the Thibault Funeral Home Director tomorrow morning to make these arrangements. There will be a visitation and a Mass of Christian Burial followed by internment at St. John's cemetery. I will forward these details to you as soon as they are finalized.
Edward J. Roach was a member of Post 24 for 50-plus years. He was a past American Legion State Commander, held officer positions at the District and Local levels, and served on many National Committees. He was a well-respected and loved member of the American Legion Family and returned that affection, respect, and loyalty in service many times over.
Ed was a seventeen-year-old high school student when his country called him to serve in the Air Corps. His date of enlistment was 9 Dec 1943. Ed was Honorably Discharged from military service on 10 Feb 1947. He was awarded the World War II Victory Medal and the Army of Occupation Medal. He was a proud Veteran and a proud American.
Thank you for your consideration.
Carol Roach, Napoleon Ouellette American Legion Auxiliary Unit 24 Member
---
Kirk Thurston
Department of Maine Commander's Project

Support The American Legion Commander's Project
Operation Reboot Outdoors

For more information on how to donate, please click here .
---
American Legion Be the One Campaign

Today, the #1 issue facing those who served is veteran suicide. According to the National Veteran Suicide Prevention Annual Report. 17 veterans still die by suicide each day, or more than 6,000 each year. The rate of suicide for veterans is more than 50% higher than that of non-veteran adults.

The American Legion is activating a national platform to end veteran suicide. - The Be the One campaign will: Destigmatize asking for mental health support, creating opportunities for those with mental health issues to speak freely and get the support they need; Provide peer-to-peer support and resources in local communities; Deploy FDA-approved therapeutics for veterans to identify issues and find resources for support.
What To Know...
---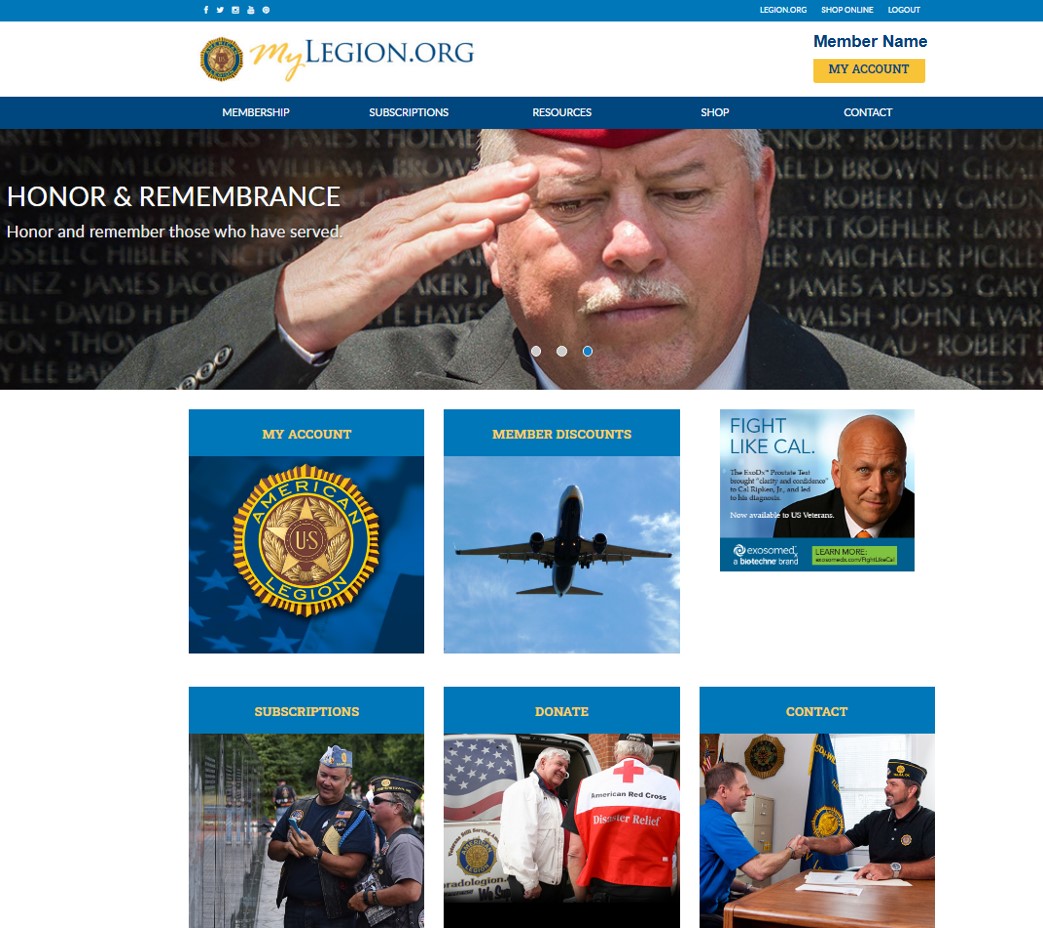 A Complete Overview of MyLegion.org
Includes New Updated Instructions/Information on
How to Register an Account, Manage Groups, Process Membership, View Reports, and More!
Download a copy to learn more! (Available in PDF or PPTX format)
A Complete Overview of MyLegion.org - PDF format
A Complete Overview of MyLegion.org - Powerpoint (PPTX Format)

Note: The last Tuesday of each month American Legion National Headquarters staff will present 60 to 90-minute sessions on topics aimed at post commanders and adjutants. Each session will be recorded and made available for later viewing. Please visit Training Tuesdays for the next scheduled training session.
---
---
---
The American Legion Department of Maine Foundation, a 501 (c) (3) charity organization
Please
click here
or the FOUNDATION tab above to learn more.
---
AmazonSmile donates to the American Legion Department of Maine Foundation.
Shop AmazonSmile and make a difference today.
http://www.smile.amazon.com

---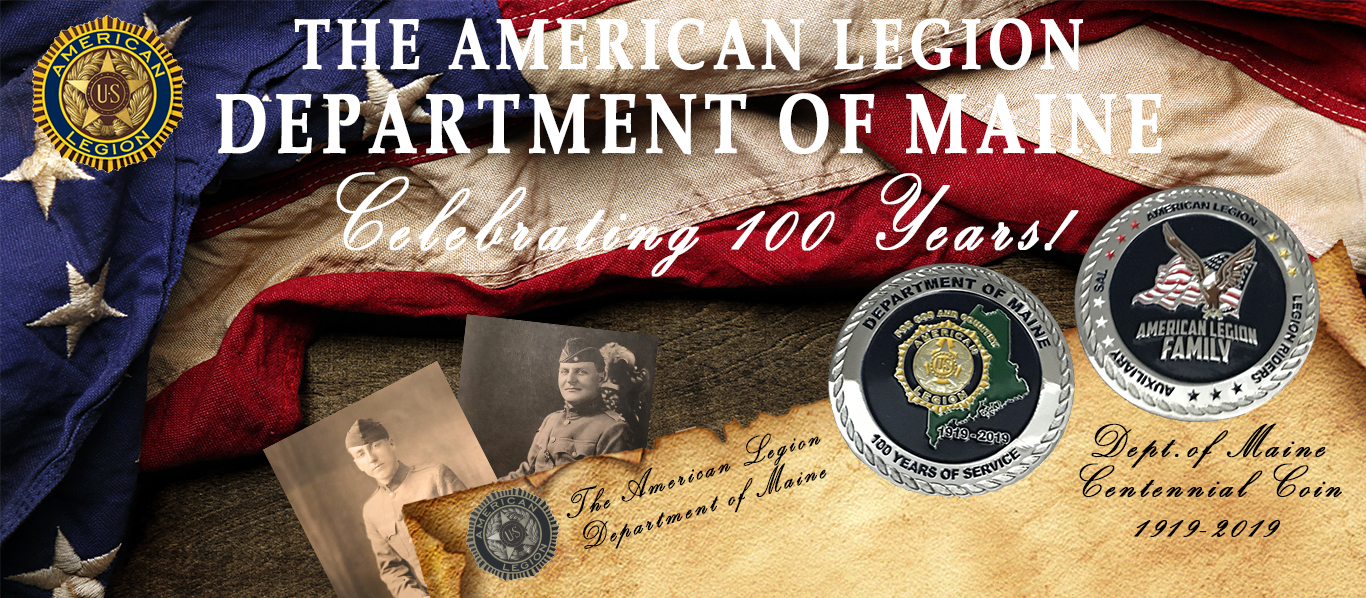 The Department of Maine Centennial Coins can be purchased online, or by calling the Department directly at 207-873-3229 . The coins are $10 each plus $5 shipping/handing. Coins are also available for free pick up at Department for $10 each. To purchase your coin, click on the Buy Maine Centennial Coin button below.

PLEASE ORDER YOUR COIN TODAY WHILE SUPPLIES LAST!




Click here to learn more about the Department of Maine's Centennial Celebration
---